A Unified Collaborative Platform to finding the
best choices Of agencies, within 36 hours
Thoroughly Vetted 100+ Agencies, Studios, Production Houses, and Development Companies
Data Powered Smart Matching with Service Providers
Unbiased, Transparent, and Efficient
50+
Vetted Agencies, Worldwide
100+
Successful
Campaigns
Real-time
Strategic
inputs
25+
Client-Agency Matching Factors
ROI
Driven Campaign
Parameters
+75%
Savings on Time and
Money
/ Dramatically improving your brand's
chance to succeed /
Ensuring win for
your business
Levelling the playing field for brands
globally with the Access to best agencies and talents
at unbeatable price.
Discover Growth and
Scale with Speed
ODWorks enables you to match with the best agencies in no time
With a proven track record in the similar category with rich experience.
ALL Powered Vetting &
Matching System
Data Powered Vetting & Matching
Data rich vetting based on
the past projects and experience
Choose from a marketplace that
sets new benchmarks and standards
for quality
Uncertainty around choosing the best agency that ensures results
Wastage of resources as a cost, for choosing wrong agency
Always Stay in Control
with Seamless Collaboration & Transparency
Smart Monitoring and Intuitive
Real-Time Recommendation
Neutral Data Driven Performance
tracking with customized metrics
Data backed strategic inputs to ensure
growth and success with solidarity and
focus
A Lack of clarity about what the agency
is trying to accomplish
Dependency of assistance and course correction
limited to the agency's expertise and experiences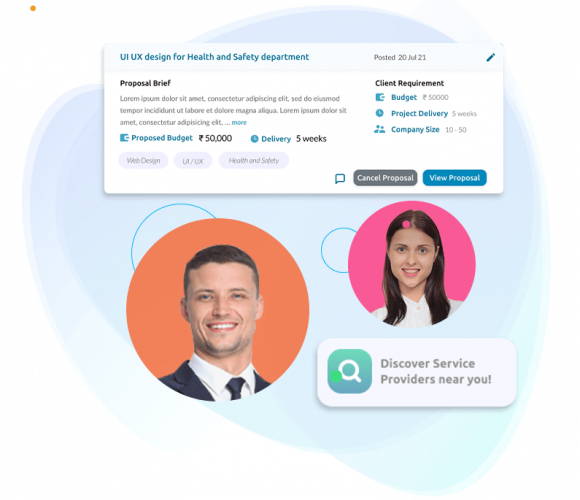 In just a couple of steps help us understand what
exactly are you looking for in the designated budget.
We will help you match with the best available agencies
in the category.
Perfect Matches
at Perfect Price
Once you post requirements, within 36,
hours you will receive 3+ proposals from
the right growth partners
Set mutually decided KPIs
Finalize the agency that comes with a prior experience in
handling similar projects with proven success. You are set
for an incredible growth journey.
Get Strategic Inputs and Real-Time Insights
Monitor, Collaborate, and track progress of the project. Benefit from the data based inputs to customize and personalize the strategies to maximize the growth.
It Pays to have a growth partner
who benefits from your success
Business Intelligence at Work
Data
Intelligence
Keep a measure of metrics that matter and minimize the errors with real-time reporting.
Swift Improvisation and Customization
View ads performance, results, and analyze your current campaigns from one dashboard
Make Every
Dollar Count
Take control of your project spendings across channels and get assistance in optimization of your campaigns.
Effortless Collaboration
Strategize, Decide, Update, and Stay on top of all small and big project developments.
Ready to scale
your business?
ODWorks is a Tech-driven B2B Services
Platform that connects demand to supply.